This quick tip comes from a webinar I recently watched called "An Introduction to Lean Test Management". I took a couple of notes from this, one of these being pick charts, something I'd never heard of surprisingly until then. As our team had an issue with task management in that we had no formal method for this I thought it would be interesting to mock up a quick example in a spreadsheet for how we could potentially use this.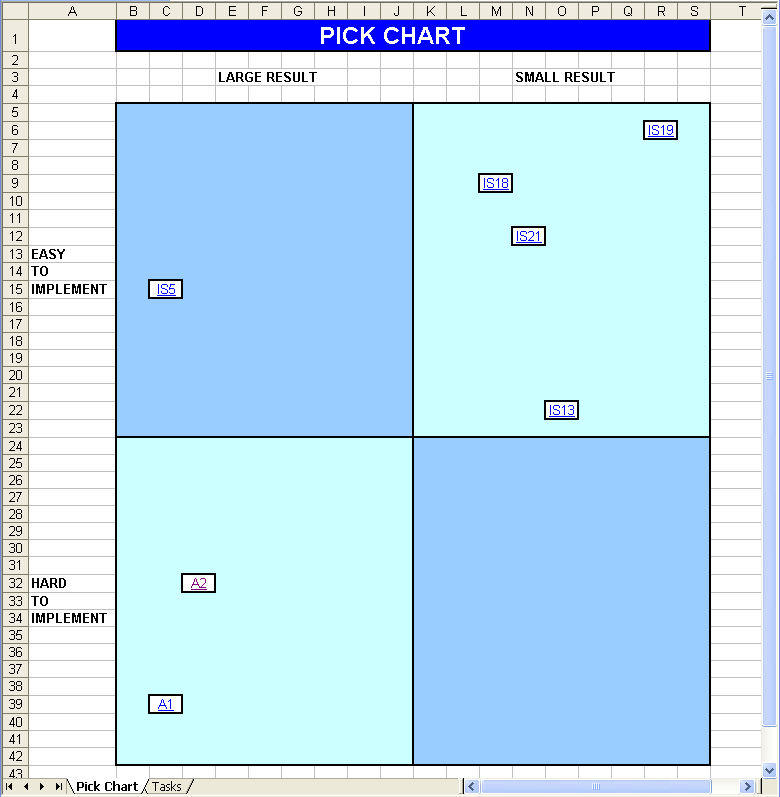 You can have a look at this example here, notice it's slightly modified from the standard format in that I removed the words "Possible, Implement, Challenge and Kill". I personally felt these weren't needed & could potentially confuse a simple example.
So you get the general idea of these, we want to map out our tasks in a format that allows someone to come along and pick easily a task. Knowing how much time they have they will be able to pick something of high value within their time constraints.
You could improve the example by adding in some clever macro's to automate the chart aspect or write some php scripts to improve it and make it available via a website for your team. Either way I like them since their simple and easy to use.
Alternatively you could use the popular RTM, something which we are trailing out just now.
If you have another suggestion let me know we're open to idea's.
No related posts.